l
Tonight in Cambridge at
TT the Bear's Plac
e at 8:00pm a concert I have been waiting for weeks to arrive will finally be upon us. A C.D. release party is the best kind of party, and a party it will be tonight. Anybody interested in hearing live music and enjoying themselves should come. If you don't live in the area I'm sorry but here is a little sampler of the bands that will be playing tonight. Facebook event page
here
. Buy tickets
here
.
The unofficial set times are as follows
8:20 Ugly Purple Sweater
9:00 Bandit Kings
9:45 Pearl and the Beard
10:45 Kingsley Flood
11:45 The Acre
The Acre
's album Cerca Trova is a gem from start to finish and you can finally purchase it tonight. Blending folk and rock, guitars and the piano, the music will surely grab the crowd's attention tonight.
Pearl and the Beard
are releasing their second album, Killing the Darlings, on May 10th. "Sweetness" is a track off of the album. Learn about the inspiration for the three person sweater in
this video
with Jocelyn from the band.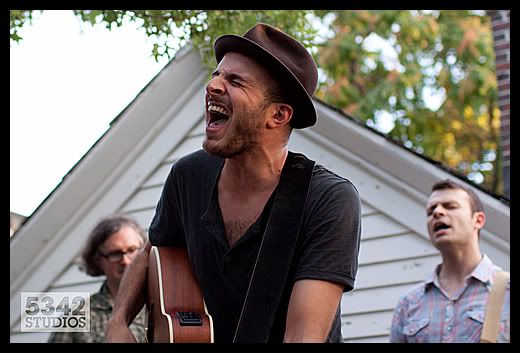 Kingsley Flood
- Good thing nobody's counting how many times I've posted about this band, it's getting up there. But if I could, I would go to all their shows, it's always a gaurenteed great night.
(Photo via
5342 Studios
)
Ugly Purple Sweater
is offering their 2009 album You Are Alone But You Are Not Alone, as a name your price download on
bandcamp
. Their sound is off-kilter folk, like they are disguising something horribly wrong in a jaunty folk song. Definitely interesting.
The Bandit Kings
out of Gloucester, MA are a country rock band fronted by two female vocalists. Their song "Laredo" might trick you into thinking they are from somewhere far more southern than a northern Massachusetts seaside town.